How Much Does It Cost
To Remodel A Kitchen?
On average in Vancouver and Portland, a kitchen remodel with custom cabinets costs $50,000. Since most homes in the Portland-Metro area have a medium sized kitchen.  Most homeowners spend between $45,000 and $55,000.  View the cost guide below to get a close estimate for your kitchen remodel project.  If you would like to get a precise quote based on your unique project requirements please contract us. 

We hope this kitchen remodel cost estimating graph will aid during your planning and budgeting stage of you kitchen remodel project. 
A kitchen remodeling can completely change how a home looks and feels. Depending on the style, scope of work, design choices, and many other variables, a full  kitchen remodeling project can start at $30,000 and go up to $75,000, and more.
The cost varies greatly from one project to the next for obvious reasons. It would be an uphill task even for a professional to give out a complete kitchen remodel cost breakdown and provide an exact estimate without a walk-through and a complete knowledge of your requirements. Even when you receive a rough estimate, you still have to account for the changes in seasons, material prices, labor costs, and so on.
A kitchen remodel cost estimator is only as accurate as the clarity of the client's requirements and the knowledge of the site. With that in mind, let's dive into the factors that impact kitchen remodeling costs and what should homeowners expect.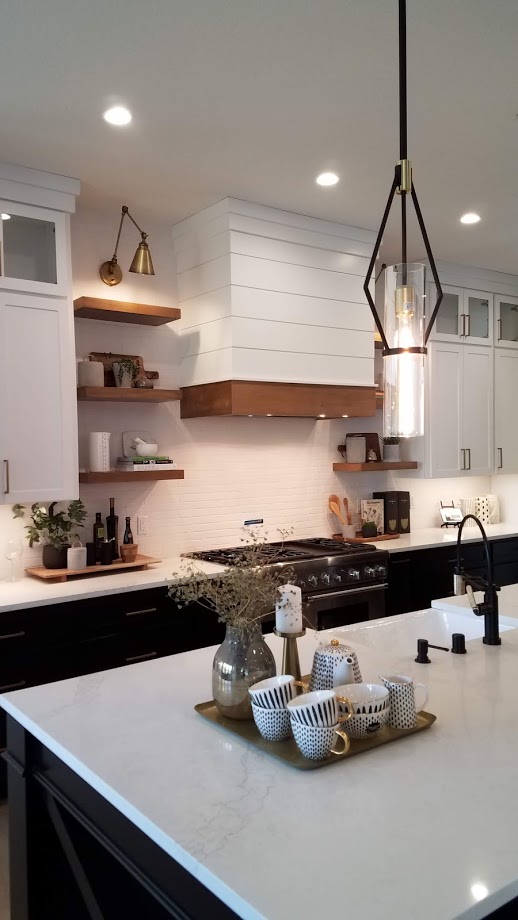 Kitchen Remodel Cost Breakdown
The cost estimation for a kitchen remodeling project has a lot of moving parts. Here are the factors that matter and the fraction of the budget that should be allocated to each of them.
Cabinetry
It is usually the cost head that will dominate your remodeling budget. Depending on the material chosen and the size of the cabinets, the costs can vary greatly. Retaining the existing cabinetry can reduce the final bill substantially.
Flooring
Flooring may sound like a major decisive factor when it comes to remodeling budgets, but it is not. So, keeping the existing flooring may not cause a major shift in the cost figures. The cost of flooring is driven the material used and then the square footage of the kitchen. Granite flooring is by far a popular option. Vinyl flooring does not add any significant value to the house and wood flooring is not practical in a kitchen environment.
Lighting
Lighting is again a lighter part of the budget, but an important part of the remodeling project. Electrical work costs usually fall under $100 an hour, but the cost is worth it. Electrical lines and fittings should be done by a professional.
Backsplash & Countertops
Countertops are the soul of a kitchen. That is where all the work happens. The cost of countertops can differ wildly from one material and finish to the next. A material like granite looks more modern and is more durable. On the other hand, a concrete countertop is a great way to keep the costs down.
Appliances & Installation
Another major component of a kitchen remodeling project are the kitchen appliances and their installation. There is a whole range of appliances from standard products that come with basic functionalities to energy-star rated products to custom appliances that are a novelty item for the kitchen in question. Of course, their prices differ and so do their installation costs.
Painting & Drywall
Painting and drywall work in a kitchen is trickier than any other room in the house. It requires the painters to remove the appliances, safeguard appliances, and cover up cabinetry before doing the job. Painting costs can vary depending on the timeline of the project and the labor cost in the area.
Miscellaneous
Plumbing, electrical wiring, or any other additional work requires permits which the contractor undertaking the project usually takes care of. Their costs are usually added in the final remodeling budget.
Kitchen remodel scope of work-level of finish
HOw much of an roi should you expect from your kitchen remodeling investment?
A kitchen remodeling project is more like an investment in the house rather than an expenditure. According to 2018 Cost Vs Value Report, a homeowner can recoup 81.1% rate of return on kitchen modeling projects.
The high rate of return on investment translates to increased buyer interest. A remodeled kitchen is more attractive to home buyers, who are ready to pay a premium for it. In a tough real estate market, a remodeled kitchen can give homeowners the much needed edge they need to differentiate themselves from the rest of the available options.
According to the report, a basic 200 sq.ft. with linearly arranged 30 feet of cabinetry can realize a high return on investment by replacing cabinet fronts, replacing cooktops and refrigerators with energy-star rated appliances, installing laminate countertops, durable flooring, and so on. This is as basic as a kitchen remodel gets and that too is adding value to the home. 
Frequently asked questions